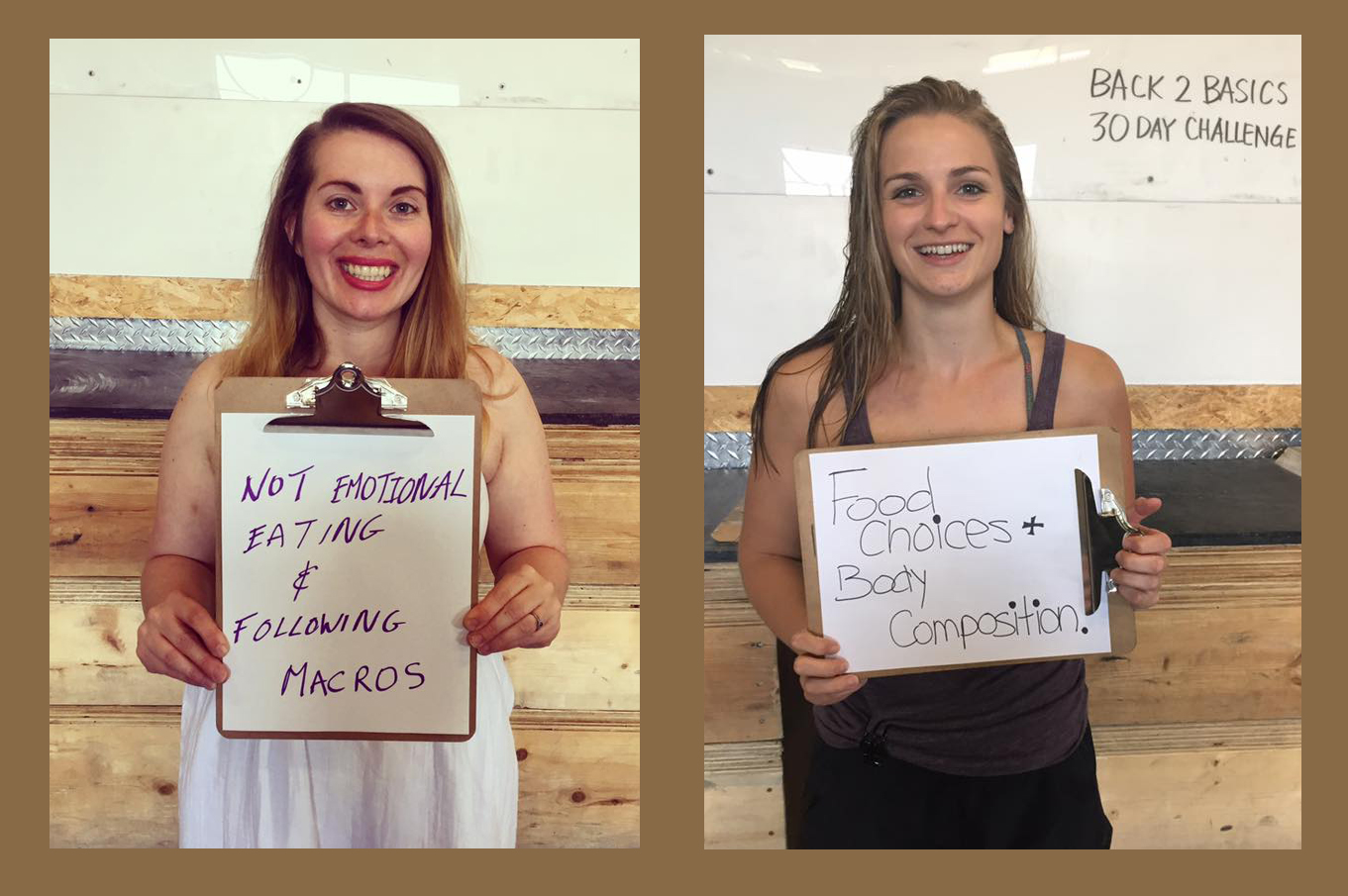 By Emily Kategiannis

Our Back 2 Basics 30 Day Challenge was of great success with 40 participants! Led and moderated by Coach Shoko and myself, we provided guidance, support and accountability to the group in order to assist them in reaching their goals.
The thought behind this program was that each of us struggle with the concept of diet and exercise on some level especially with all of the information and misinformation available to us. I wanted to address the daily struggles for people and provide hands-on tips that were easy to apply no matter the lifestyle of the individual.
Each participant received 2 individual coaching-mentor sessions, attendance to our Eat By Design seminar, 12 beginner CrossFit sessions and access to our exclusive Facebook group.
A common theme throughout all participant goals was to have a better relationship with food. Many were emotional eaters, not sure what a 'portion' was, thought they were eating too much/being restrictive and in general felt loss when it came to food.
We also discussed health and wellness as a whole concept. This included daily movement, sleep, supplements (where needed), positive thought and awareness of patterns and behaviors.
This is not a weight loss challenge but rather a lifestyle modification. There were struggles and successes which we shared and supported. Participants created new healthy habits such as meal prepping, portioning and packing meals, replacing 'junk' with healthier options. They also began to move daily and not just in the gym. Some walked their dogs more, took the kids to the park, attended yoga classes with friends and really started to enjoy feeling stronger and healthier.
Through their hard work, many members reached their goals including weight loss, better sleep, increased knowledge of food portions and sources, confidence in the kitchen, feeling stronger, eliminating food cravings and overall feeling healthier. It's about enjoying moments and meals with friends, not feeling guilty about that 'off track meal'.
Our programs at West London CrossFit are geared to everybody. We provide guided exercise programs, coaching and support for those who want to experience extraordinary health.
If you or someone you know is ready to experience a healthier and balanced lifestyle, we are accepting new members into our group and individual programs.
Please contact me to discuss our programs and come in to visit for a free consultation.