How Japan trains CrossFit Ninjas
• by Coach Shokes •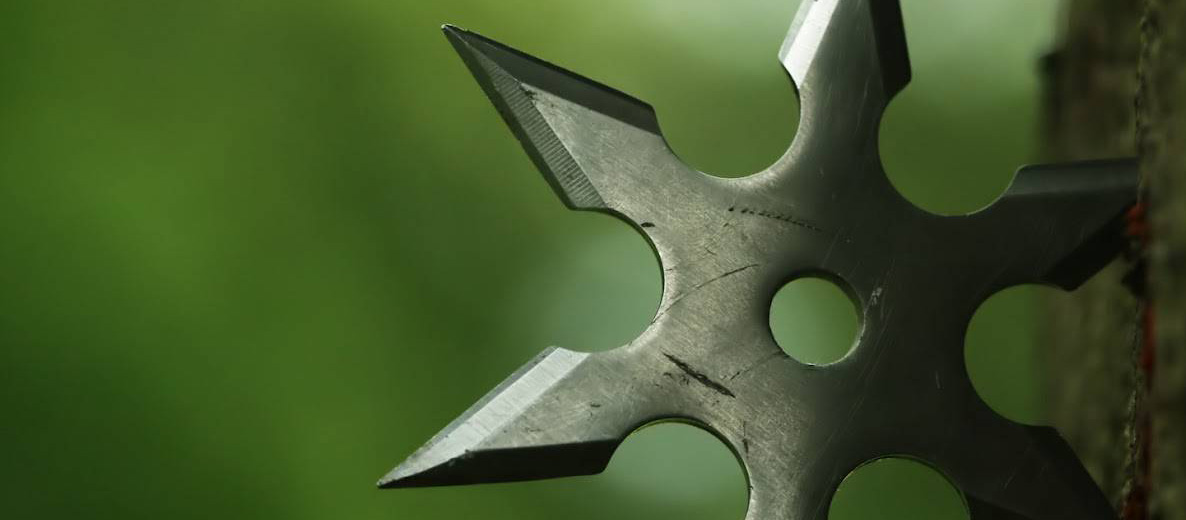 Yes, I'm from Japan but I am not saying I am a ninja or I have ever seen one in real life but when I do certain movements, like double-unders and rope climb, people confuse me for a "ninja".
Now, I don't mean to brag or anything, but in my 4 years of CrossFit training, I've never struggled with these two movements. I just knew how to do them, and I honestly thought that it'd be the same for everyone else in Canada. But it wasn't.
CrossFit is still new in Japan and most experienced Japanese CrossFitters live and train elsewhere but as far as I know, those Japanese CrossFitters are also naturally good at double-unders and rope climbs, and a few other gymnastic movements. Why? Well, it's not just because Japanese people are stereot ypically short and lean.
Nope.
The reason most Japanese CrossFitters rock these movements is cultural because it's something Japanese are taught in schools.
Now that I've lived in Canada for 6 years and sent my own children to local public schools for a while, I've made some observation and comparison in the physical education between the two school systems. I'm not trying to say one is better than the other but to give you a taste of school life in Japan.
Below is a photo of a typical elementary school and activities Japanese students learn in the gym class.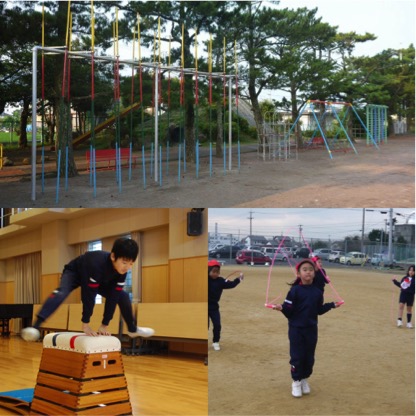 This photo shows the equipment painted in bright colours and they actually look more fun than they used to back in the day. But still, they are more serious, real gymnastic equipment, compared to the playground structures we see here in public schools in Canada. For instance, every schoolyard has 15 ft high climbing poles, monkey bars, high and low bars, and stall bars and more... Back when I was a student, I actually had no idea why those stall bars were there and how to use them. We would climb up and down the stall bars, hang from them and jump off of them, more for fun than anything.
Jump rope is something kids do every winter. There were different skills they are encouraged to master. Looking back, I think I was able to do double unders when I was in Grade 2 or 3. Everyone in my class could do them. Likewise, climbing the pole was something I was extremely good at even when I was in kindergarten. We would play tag on the climbing poles.

So, the secret to my effortless double-unders and rope climb ninjas skills lies in my childhood. Nothing too formal but definitely something that was taught at school and stayed with me for 30 years till it came in useful with my newly acquired CrossFit training. Learning good movement patterns and developing motor control at a young age does have great benefit throughout ones lifetime!

And that's what we offer here at West London CrossFit. Our Kids Fusion class focuses on teaching your children how to move well and developing great movement patterns, essentially helping your kids become ninjas, too.
Nor is it too late for yourself to pick up these skills either. Whether through our WLCF+ membership, that let's work one-on-one with a coach, our Gym'Nasty classes or my own Double Under Cinics starting on Sunday, November 6th. We're here to help you become Ninjas, too.