Athlete of the Month •
Anne-Maria Quin |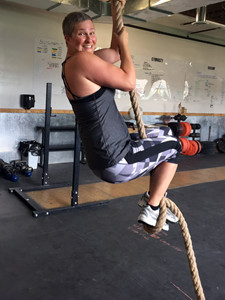 "I'm proud of what I've accomplished on so many levels, and am excited to continue reaching many more milestones with my daughter (watching and participating) and my husband starting OnRamp this September!"

In 2014, Anne-Maria received a gift from her husband that would truly change her life. A 4 week OnRamp Course from West London CrossFit. While Anne-Maria was never a couch potato, consistency and confidence in the gym were a challenge. But not anymore, once she completed her intro to CrossFit program she knew WLCF was the place for her!

Drawn to the community atmosphere and camaraderie, WLCF gave Anne-Maria the tools to allow her to model a physically active lifestyle for her young daughter. It also showed Anne-Maria that she was actually much stronger and more capable than she ever gave myself credit for.

Anne-Maria loves that the programming is taken care of and designed to help the class continually challenge themselves. Among the many benefits of a coach led class, Anne-Maria appreciates the time and dedication taken to ensure that movements are done correctly and safely and that she's pushed out of her comfort zones when needing that nudge! But most of all she loves that the coaches and fellow athletes provide a supportive environment where we can try new things and cheer each other on.

Training CrossFit allowed Anne-Maria to gain confidence and develop a more consistent healthy lifestyle all while making her an amazing role model for her family. For Anne-Maria, WLCF was her missing link, maybe it's yours, too.