ATHLETE OF THE MONTH |

ALEXA MOMY •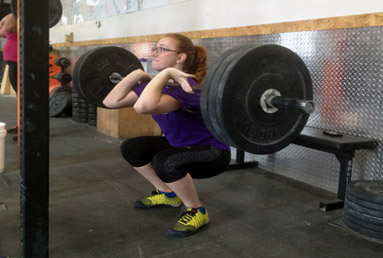 Prior to joining WLCF, Alexa wrestled for nearly a decade and competed in Olympic Wrestling at the varsity level. Once she moved on from that, she began searching for something to fill the gap. She tried a regular gym but that got boring really fast. She found out about WLCF from an old roommate and decided to check it out.
Since joining WLCF, Alexa's noticed huge improvements in her strength and mobility. She loves the feeling of being strong as well as setting goals and reaching them; it gives her the same sense of accomplishment she used to get from wrestling.
Alexa really digs the group coaching style at WLCF. She loves having a coach there to make sure she's doing the movement properly and to push her when she needs it. It's really nice building a relationship and trust with someone that can help you reach your goals and achieve things you never thought you could do yourself.
A lot of Alexa's friends are students who hesitate about the price, which is understandable. If you can't afford it, it makes it difficult to join and commit. But there's a difference between not being able to afford it and not being able to prioritize it. Crossfit is a great way to develop the strength and mobility to live life to its fullest, at any age. WLCF takes away the dread of the gym and replaces it with a fun, challenging, welcoming environment that can be tailored to any need.