ATHLETE OF THE MONTH •
RAY MARQUIS -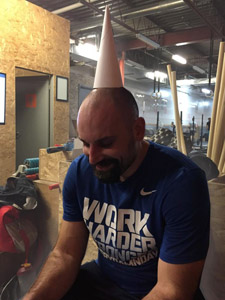 "The staff at West London CrossFit are truly amazing! Everyone goes way beyond coaching. They are focused on helping you achieve the goals you want both inside and outside the gym. They are always willing to go the extra mile to help make them happen."

Ray started a West London CrossFit because he found himself never being able to stay committed to a regular box gym. He always felt like he was going through the motions and having no real purpose to working out. Being at West London CrossFit has allowed Ray to set goals and define his expectations. It has changed the way he looks at fitness and working out.

Ray says the programming at West London CrossFit is incredible! That he's never worked out so hard, felt so exhausted and craved more the very next day. He says West London CrossFit provides a very progressive, challenging and rewarding workout.

Ray's advise to anyone hesitant on trying CrossFit is that his journey so far has been life changing. CrossFit has made Ray a better person beyond simply strength. He understands the benefits of goals setting and nutrition while outside of the gym he's a more determined confident and driven person. While there have been and still are many struggles for Ray seeing how far he's come is very rewarding.