ATHLETE OF THE MONTH |
JORDAN 'GORD' DUFTON •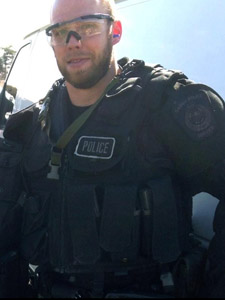 "West London CrossFit doesn't just focus on conditioning as they encompass a high level of strength training as well. The coaches track your progress with percentages and know your limits."
Jordan needed a program for maintaining an advanced level of fitness for his line of work. West London CrossFit offered this type of programming integrating strength and a high level of conditioning.
Since Jordan has started training at West London CrossFit he has learned the importance of mobility along with optimal nutrition. He notes an increase in his conditioning and says he is the strongest he's ever been. Jordan received a specialized program from West London CrossFit which aided him in achieving his goal of becoming a member on the Emergency Response Team (TAC) for the Sarnia Police Force.
If you're on the fence about joining our program, Jordan recommends jumping in and just do it. Commit yourself and get results. You will notice a huge difference when someone is holding you accountable for your 'guns'.